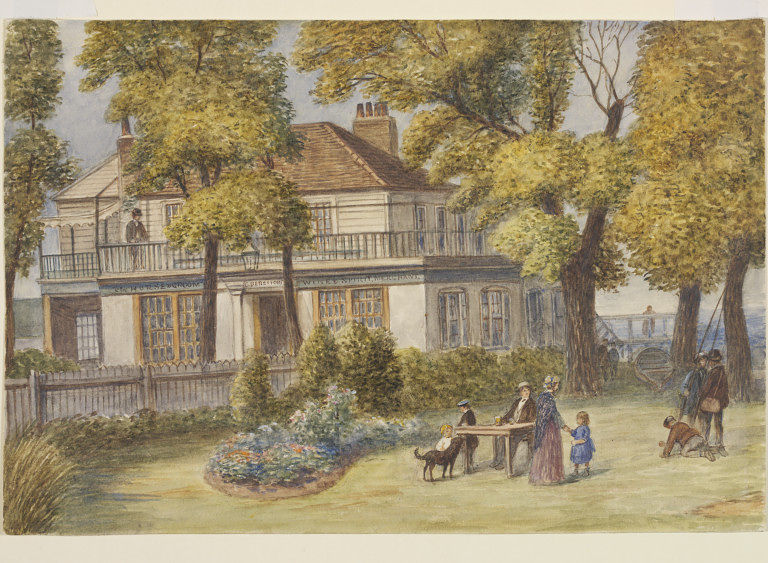 1871 painting of Horse & Groom by J.T.Wilson (V&A Collection)
(The Ferry House Inn or Chevaliers Ferry House) and Lea Ford (c.1702) (Demolished 1850)
Historical Association

The Horse and Groom (also known as Lea Tavern, the Ferry House Inn and the Chevaliers Inn), is associated with a celebrated nineteenth century fishery along the Lea and referred to by Izard. The tavern was located beside a former ferry across the river and, possibly, near an earlier ford. The property was sold, along with the rights to the fishery, by Tyssen to the East London Company in 1829-32, demolished and incorporated into the East London Waterworks.  
Archaeological Significance
Potentially high archaeological significance.
Group Value
Group archaeological significance a series of related artefacts including the Walthamstow Slip, a possible ford across the Lea and an early lock/weir system.
Condition            
Demolished and site incorporated into the East London Waterworks.
Future Conservation
Watching brief. Potential investigation linked to future enabling development of the Waterworks.
'THE HORSE AND GROOM SUBSCRIPTION HOUSE is most pleasantly situated a short distance from Lea bridge close to the river side commanding extensive views over the marshes to Walt hamstow Epping forest Low Layton &c To the latter place is a charming ride in summer over the marshes particularly during hay making after which season the marshes are well stocked with oxen cows horses and other cattle which much enliven the scene during the remainder of the summer in the winter snipes herons and wild fowl are to be met with in these marshes The Horse and Groom being so short a distance from the metropolis about three miles and a half only induces the lovers of angling and rural scenery often to visit this house which may be done with little expense either of time or money the Clapton stages coming within half a mile of Lea bridge every hour in the day from eight o clock in the morning till eight at night thereby enabling the London angler to enjoy his favourite amusement for a few hours daily when he would otherwise be deprived from the distance of other waters The proprietor of the house and waters Mr Sparrey I have always found extremely desirous of giving every assistance to promote the success of the angler and very attentive to accommodate them in the best possible manner his house will afford The water belonging to the Horse and Groom is preserved solely for the use of subscribers at ten shillings and sixpence per annum or one shilling per day.'
References

The Angler's Guide, Thomas Frederick Salter, 1815